Introduction
Living in a digital age, our homes are becoming increasingly connected and intelligent. With the rise of smart home technology, we now have access to an array of innovative devices that can help simplify your life, making our homes more convenient, secure, and efficient.
From voice-controlled assistants to automated thermostats, intelligent lighting systems to advanced security cameras, the latest smart home devices offer a myriad of features designed to enhance our living experience.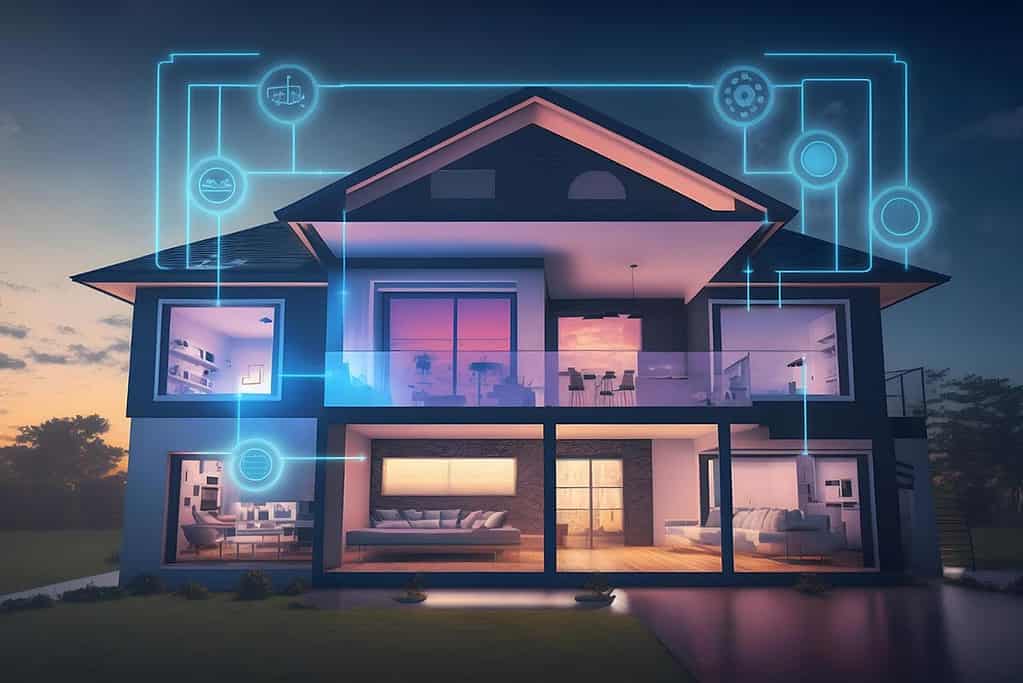 In this article, we will explore a selection of cutting-edge smart home devices that are leading the way in revolutionizing our homes, streamlining routines, and transforming our lifestyles.
Voice-Controlled Assistants
These assistants have become an essential part of many smart homes. These intelligent devices respond to voice commands, allowing users to control various aspects of their homes effortlessly.
Among the leading voice-controlled assistants on the market, the Amazon Echo (4th generation) stands out with its integration of Alexa, a powerful virtual assistant capable of managing tasks, providing information, playing music, and controlling compatible smart devices.
Similarly, the Google Nest Hub, equipped with Google Assistant, offers a vibrant touchscreen display and serves as a central hub for managing smart devices and accessing a range of services.
Smart Thermostats
Revolutionizing the way we control the temperature in our homes, providing comfort and energy efficiency. Nest Learning Thermostat, for example, utilizes advanced algorithms to learn your temperature preferences and create a personalized schedule, resulting in energy savings and optimal comfort.
Meanwhile, the Ecobee SmartThermostat utilizes room sensors to ensure consistent temperatures throughout the house and can be controlled remotely via a smartphone or voice commands.
These smart thermostats not only simplify temperature control but also contribute to a greener and more sustainable lifestyle.
Smart Lighting
Have emerged as a popular choice for homeowners seeking convenience and energy efficiency. Philips Hue Smart Bulbs, for instance, offer a spectrum of colors and shades, allowing users to create customized lighting scenes, set schedules, and control them remotely via smartphone apps or voice commands.
Another notable smart lighting solution is the Lutron Caseta Wireless Dimmer Kit, which enables wireless control of lights, adjustment of brightness levels, and the setting of timers.
These lighting systems not only provide convenience but also help reduce energy consumption and create a personalized ambiance in your home.
Smart Security Systems
Essential for ensuring the safety and protection of our homes. The Ring Video Doorbell has gained popularity for its ability to provide real-time video and audio communication with visitors, even when homeowners are away. With instant alerts and remote monitoring capabilities, this device enhances home security and peace of mind.
The Arlo Pro 4 Wireless Security Camera is another advanced option, offering high-resolution video quality, motion detection, and weatherproof capabilities for indoor and outdoor surveillance.
Smart Appliances
These are transforming the way we interact with our everyday household tasks. The iRobot Roomba Robot Vacuum takes the hassle out of cleaning by autonomously navigating through rooms and adjusting to different floor types. Controlled via smartphone apps, these robotic vacuums allow users to maintain a clean home effortlessly.
Additionally, the Samsung Family Hub Refrigerator incorporates a touchscreen display, voice assistant integration, and an interior camera, making grocery shopping and organization more convenient than ever.
Smart TV`s
Smart TVs are becoming increasingly popular, as people look for ways to enjoy more entertainment and convenience in their homes. Smart TVs are essentially regular TVs with internet connectivity, which allows them to access a variety of online content and services.
Here are some of the advantages of smart TVs:
Access to streaming services: Smart TVs can connect to streaming services like Netflix, Hulu, and Amazon Prime Video, giving you access to a vast library of movies, TV shows, and other content.
Web browsing: Smart TVs can also be used to browse the web, just like a computer. This means you can check your email, social media, or news websites without having to get up from your couch.
Apps: Smart TVs can also download and install apps, just like a smartphone or tablet. This means you can access a variety of apps, including games, music players, and fitness trackers.
Voice control: Many smart TVs can be controlled with voice commands, using a voice assistant like Amazon Alexa or Google Assistant. This makes it easy to change channels, search for content, or control other smart home devices.
Improved picture quality: Smart TVs often have better picture quality than regular TVs, thanks to features like HDR and 4K resolution.
Convenience: Smart TVs make it easy to access your favorite content and services without having to use a separate device, like a streaming stick or game console.
If you're looking for a new TV, a smart TV is a great option. They offer a variety of advantages over regular TVs, including access to streaming services, web browsing, apps, voice control, and improved picture quality.
Here are some additional benefits of using smart TVs:
Increased entertainment options: Smart TVs give you access to a wider variety of entertainment options than regular TVs. You can stream movies and TV shows from a variety of services, as well as watch live TV, YouTube videos, and more.
More convenient control: Smart TVs can be controlled with your voice, remote control, or even your smartphone. This makes it easy to find and watch the content you want, without having to fumble with a remote control.
Better connectivity: Smart TVs are connected to the internet, which means you can stay up-to-date on the latest news and weather, or even shop online.
More personalized experience: Smart TVs can be customized to your liking. You can create profiles for different family members, so each person can see the content they want. Using the parental controls, you can restrict access to certain content for young viewers.
If you're looking for a new TV that offers more entertainment options, convenience, and connectivity, then a smart TV is a great choice.
Conclusion
As smart home technology continues to advance, the latest devices offer incredible possibilities for simplifying our lives and creating more comfortable living environments. Voice-controlled assistants, smart thermostats, lighting systems, security cameras, and appliances are just a few examples of theways in which smart home devices are revolutionizing our homes.
By incorporating these devices into our living spaces, we can streamline routines, enhance security, and save time and energy. Simplify your life today with these new concepts!